HTML5, here we come!
If you are a little bit familiar with the HTML5 journey, you may know that it was a long and hard way to get there starting off from the HTML 4 standard, which was not updated since 2000. The HTML5 (written without a blank) standard first introduced 2004 under the headline "Web Applications 1.0" gives us the promise to build better and more powerful web applications in the future and to be more related to practice than XHTML. Most of the modern web browser like the products of Google, Mozilla, and Apple support already HTML5 and also the next version of Microsoft's web browser Internet Explorer 9 will support some of the new HTML5 features. But can HTML5 really help us in our daily business? This is exactly the question which we have asked us in the ARIS development team and so ARIS ModelViewer was born!
ARIS ModelViewer is something like the YouTube player for ARIS models. It makes it possible to open and navigate ARIS Express models in a web browser in a very fast and easy way without starting ARIS Express itself. Like YouTube videos, you can use ARIS ModelViewer to embed your ARIS Express model in your personal page or blog and share it easily with the Internet community!
It was one of the major development goals to bring ARIS models to mobile devices. We achieved this goal, because ARIS ModelViewer works well on Apple iPad and most Google Android based smartphones and tablet devices. Also, we said ARIS ModelViewer must be rocket fast, even for large ARIS models. We also achieved this goal, but try on your own. The model shown at the beginning of my article got more than 700 objects and you can still zoom and drag it smoothly.
How it works
You can simply upload ARIS Express models in the community in the same way you have done it before. Instead of a simple graphic, the ARIS ModelViewer will now appear in your blog post if your browser is supported (for a list of browsers see below). ARIS ModelViewer offers you all essential navigation features like you know it from Google Maps. By dragging the model or using the model overview, you can navigate around in the model. Use the zoom slider to get to see all the nasty details of the model or to take a bird's view on it. Besides, ARIS ModelViewer also provides a full screen mode so that you can enlarge it to the size of your browser window.
The following picture gives you an overview about the main controls of ARIS ModelViewer: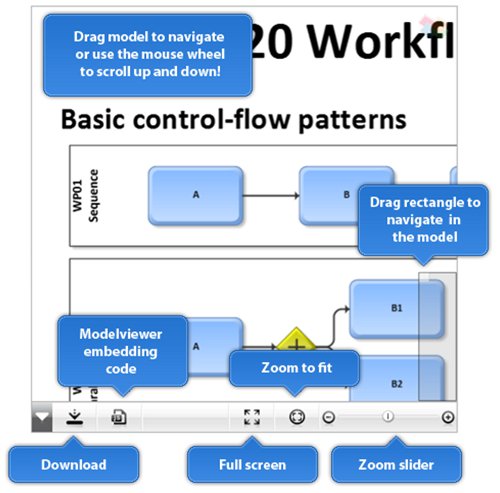 Some additional hints:
The full screen mode can be closed by pressing ESC key or by clicking the full screen button again.
Holding the shift key while using the mouse wheel, it is possible to scroll horizontal instead of vertical.
Check this article by Sebastian how to embed a model in your own page using ARIS ModelViewer.
ARIS ModelViewer currently works with the following browsers:
Firefox 3.6 or higher
Google Chrome 7 or higher
Microsoft Internet Explorer 7 or higher (Flash plugin 10.1 or higher required)
Apple Safari 5 or higher
Apple iPad
Google Android 2.2 build-in browser or higher
We will further improve ARIS ModelViewer in the coming months. Please let us know if it doesn't work on your device so that we can check what's going wrong. We would be also happy about cool photos of running ARIS ModelViewer on your preferred device. For example, take the Super ARIS Express model in full screen mode to impress your colleagues and friends ;-)