Overview of the IT infrastructure notation
Business managers, project managers, system administrators, IT architects, and developers all have a different idea of what IT infrastructure is. Therefore, visualizing the various components from which an infrastructure is built is very useful to make the infrastructure environment and the various components more transparent for all parties involved. This can be done in an IT infrastructure model.
In a model of the IT infrastructure type you can represent the entire technical communication infrastructure that exists in a company. IT systems and associated hardware systems are connected by networks using different network devices.
An IT infrastructure describes
which software systems are running on which hardware,
in which network the hardware is located, and
which network devices (switches, routers, firewalls) are used for interlinking existing networks.
Superordinate networks encompass individual networks that use the same technology. You can establish connections between various networks and arrange them in a hierarchy. Each network can be assigned network components that help identify technological restrictions arising from the use of a specific network in a company.
The hardware can be either network hardware used for implementing defined network structures, or hardware that can be connected to networks.
Hardware at a superior level subsumes individual hardware items that are based on the same technology.
A simple IT infrastructure may look as follows: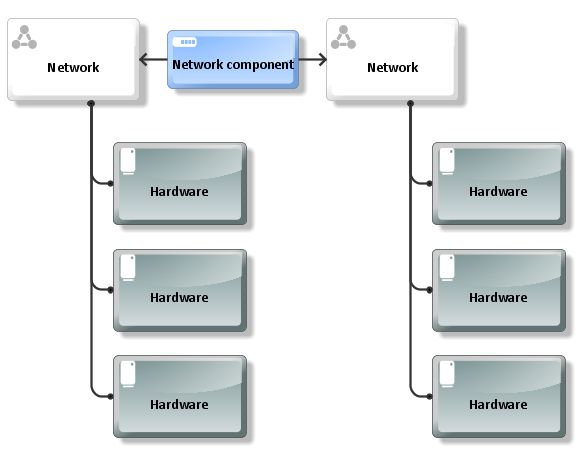 IT infrastructure objects
A model of the IT infrastructure type is created using the following process objects and linking them via the "encompasses"connection:
Networks encompass individual networks (information system networks) that are based on exactly the same technology.
Network components encompass individual network components that are based on exactly the same technology.
IT systems encompass individual IT systems that are based on exactly the same technology.
Hardware encompasses individual hardware items that are based on exactly the same technology.
Example of an IT infrastructure
In the following example, an IT infrastructure of the Demilitarized Zone (DMZ) is shown. Using the interactive model viewer you can directly browse the IT infrastructure displayed below. You can even download it and edit it in ARIS Express. You can also have a look at our video tutorials to find an easy way into the world of ARIS.
Let's start modeling IT infrastructures!
From here you can start to learn how to model an IT infrastructure with ARIS Express. The required steps are: Download ARIS Express, have a look at some model samples or video tutorials, start modeling, share your models and discuss them with other users, and if you haven't joined ARIS Community yet, do it now! ;-)