This October, Software AG is hosting the 2017 Product Release – a virtual event designed with you in mind.
In the session "Process Transformation and Governance, Risk & Compliance Mgmt with ARIS" we will present feature highlights of the upcoming ARIS 10 Service Release 2. Other sessions are spanning our whole Digital Business Platform portfolio, including "The Internet of Things".
2017 PRODUCT RELEASE:  A SOFTWARE AG VIRTUAL CONFERENCE
Our first-EVER virtual conference is an unprecedented opportunity to discover and be wowed by our latest product innovations, hear news about the capabilities you've been waiting for and get a glimpse of future tech ---all from the comfort of your own office.  Join us along with thousands of your peers, as we embark on a two-and-a-half hour inspirational and transformational journey that will spark your imagination.  The 2017 Product Release:  A Software AG Virtual Conference is an event you CAN'T MISS!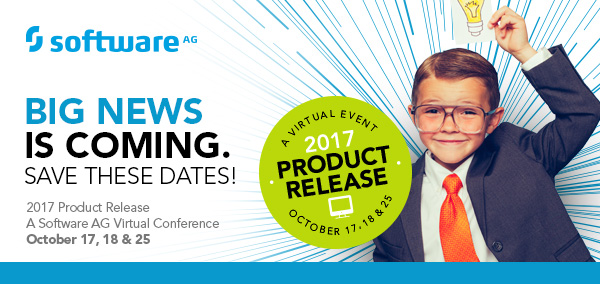 3 DAYS – 3 TIMES – 3 OPTIONS TO ATTEND
2017 PRODUCT RELEASE:  A SOFTWARE AG VIRTUAL CONFERENCE
For your convenience, we've scheduled the event to repeat three times across three days to give you more options for participation.  If you are in Paris or London and want to participate during regular business hours, then Tuesday the 17th is the event for you.  If you are in New York or Sao Paulo, then Wednesday the 18th is your best option.  If you are in Tokyo, Bangalore, Singapore or Sydney, Wednesday the 25th would fit your traditional business day.  View the agenda to plan your participation. 
Europe:        Tuesday, October 17th @  10:00 am CET/Berlin
Americas:     Wednesday, October 18th @ 1:00 pm EST/New York
Asia-Pacific: Wednesday, October 25th @ 10:00 am JST/Tokyo
Attend the event that is best suited for you -- or hop between sessions over the three days based on your schedule and interests.