Part 1: Requirements management overview
Part 2: Defining requirements using ARIS business designer
Part 3: Design using ARIS UML designer
Requirements management overview
Poorly defined applications have led to a persistent miscommunication between business and IT. This contributes to a 66% project failure rate for those applications, costing U.S. business at least $30 billion every year (Forrester Research).
60% - 80% of project failures can be attributes directly to poor requirements gathering, analysis and management (Meta Group).
From the above it is clear that managing the requirements process should be at the heart of your SDLC and should be supported by tooling that allows one to manage requirements. In this article I will try and explain how ARIS (Business Designer, UML Designer, Archimate extensions) and JIRA can assist in managing the complexities of managing requirements. As illustrated below, requirements span from strategy to design and involve multiple roles. The challenge is HOW does one coordinate the effort of all these roles in order to manage requirements?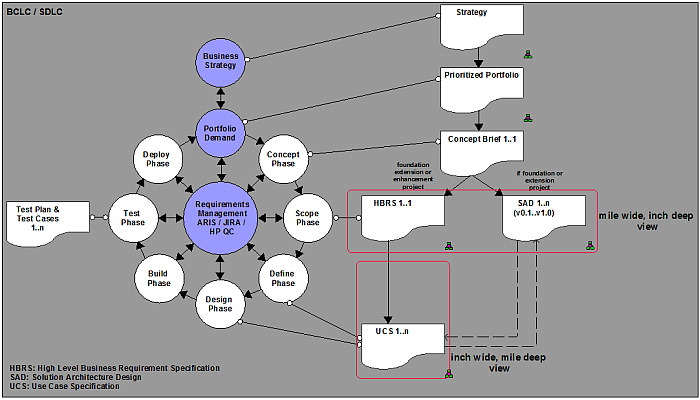 The key lies in defining a common "language" to define requirement artefacts and to use a repository based product that is able to support the common "language". In my example I will be using BPMN, Archimate, UML and standard ARIS model types as my common "language" to describe requirements. Another key concept is to define deliverables i.e. Concept Brief, HBRS, SAD & UCS as in my example that contain the agreed artefacs (models & matrices) based on the common "language".
Lastly I need to ensure that all identified requirements are traced to build and test. Here I'm able to export the defined requirements from ARIS to JIRA from where it is used by the various development teams to add test cases and to track progress on either Kanban or Scrum boards.
Issues (requirements) can then be traced from to do to done using Kanban boards.
In Part 2: I will explain how to define requirements using ARIS business designer