Introduction
There are many interpretations on the definition of a digital twin, a short interpretation of the Wikipedia definition is the following;
1.   'The digital twin refers to a digital replica of physical assets, (production) processes and systems (e.g. factories). 
2.   The digital twin provides both the elements and the dynamics of how an Internet of Things device operates and lives throughout its asset life-cycle.
3.   The digital twin integrates artificial intelligence, machine learning and software analytics with data to create living augmented and simulation models that update and change as their physical counterparts change.
4.   The digital twins are used to optimize the operation and maintenance of physical assets, manufacturing processes and systems.
Physical assets can be sold products, production machines, trucks, turbines, airplanes, shoes, golf clubs, washing machines or even animals.
Internet of things (IoT) condition monitoring provides real-time visibility into the state of the assets or operational processes and allows to predict and react to (potential) issues and identify improvements.
The digital twin combines asset life-cycle data from;
Product design       (Materials, BOM, CAD/CAM designs, manuals)
Production              (Assets, serial#, certifications, MES production, quality status, yields)
Sales & marketing  (Customers, product releases, pictures)
Supply chain           (Spatial dimensions, logistical trace-ability)
Operations               (IoT conditions, asset usage, simulation models)
Services                  (SLA, spare parts, incidents, VR/AR support)
Finance                    (Asset costs, operational costs, pay per use) 
The digital twin is an interactive cognitive augmented 3D platform which combines real time data, physical dependency models and intelligence from different platforms to simulate, predict and improve assets utilization and E2E processes. A simple example is the digital twin of a bike; (https://www.youtube.com/watch?v=5pduzVtpIPI) , a complex example of the digital twin of a steam turbine is; https://www.youtube.com/watch?v=2dCz3oL2rTw ).
Digital twins can be used to optimize factories, control buildings, streamline global logistics, sustainable farming and people health.
The digital twin should be supported by an open (cloud) platform to exchange real-time asset information between manufacturers, service partners, customers, OEM partners, regulators and insurers and facilitate the collaboration within the ECO system and other digital twins.
Digital twin solution architecture
Many companies are investigating the potential use of digital twins. One of the difficulties is to design an integrated solution architecture. The digital twin integrates data from existing (cloud) platforms and asset related applications to provide a complete overview of the assets from different perspectives.
The digital twin asset data can be located on the following (cloud or on-premises) platforms;
1.   Cloud IoT integration (e.g. Azure or SAP IoT),
2.   ERP business suites (e.g. ORACLE or SAP)
3.   Data management (e.g. informatica or SAP MDG)
4.   Collaboration asset platforms (e.g. Predix or SAP AIN)
5.   Digital Innovation portfolio (e.g. MindSphere or SAP Leonardo)
The digital twin could be integrated with the following applications;
1.   Product Life-cycle Management (engineering BOM, components and spare parts, software versioning (for embedded systems))
2.   Intelligent product design (CAD/CAM drawings for 3D printing designs, layouts, assembly information and product structures)
3.   Data & content management (material master data, product pictures, movies)
4.   Supply chain management & finance (sales orders, production orders, (spare part) logistics, product costing and profitability)
5.   Manufacturing execution (Cyber Physical Systems (CPS) integration of assets with smart algorithms to facilitate automated operation)
6.   Logistical services (connected goods and vehicles with GPS locations)
7.   Plant maintenance & strategies (maintenance strategies & orders)
When the products have been delivered and installed at the customer site, the digital twin platform could be integrated with;
8.   The installed product (with IoT Edge and systems of systems technology) 
9.   Operational monitoring (IoT platform & operational services)
10.        Predictive maintenance & service (PdMs)
11.        Service management & CRM (Service orders)
12.        Collaborative digital twin platform (Asset Intelligence Network)
The following picture gives an overview of a possible digital twin solution architecture;
The digital twin should integrate the data from the different (cloud) platforms and applications to create a single source of truth for every asset. This requires an API management platform and an integrated (cloud) architecture according to the (ADM) Enterprise Architecture Framework. (see previous blogs).
The API-based access to the digital twin allows to create mobile applications and conversational interfaces for field services and remote support staff. The access rights need to be managed to ensure compliance and data protection and based on contractual relationships.
Business value of the digital twin
Digital twins are built with the business objectives in mind. A few examples used in industrial or commercial environments include:
1.     Digital twin for connected product: Manufacturers create digital twins for their sell-able products to follow through the entire lifecycle from design, production, delivery, usage and service at customer to end of life (Product Lifecycle Management). The right resources (service technicians, tools, and spare parts) are more efficiently dispatched.
2.     Digital twin for connected production plant (or store in retail): Manufacturers (or retailers) simulate the E2E processes within their factory (or store) to manage and improve production, infrastructure and operations.
3.     Digital twin for connected logistics (vehicle or goods): Owners / operators use digital twins for their logistical assets (e.g. vending machines or their fleet of vehicles) to track, maintain, optimize, and manage assets.
A digital twin is a prerequisite to develop new product-as-a-service business models which are based on actual product usage or consumption. Moving from a product-centric to a service-centric business model will upgrade the role of the digital twin from a data-driven simulation model to the basis of financial accounting. Product-as-a-service providers require live information for proper revenue recognition and forecasting.
Business case for the digital twin
The actual implementation of a digital twin depends on the urgent business needs, business requirements and the capabilities of the current solution architecture. Most business cases will be focused first on the improvement of after sales service management, predictive maintenance or production utilization.
VNSG focus group ADM & EAM meeting on 6 September.
The objectives of this meeting is to understand the capabilities of the digital twin, learn from companies who are implementing a digital twin road-map and discuss the required solution architecture. The preliminary agenda is the following;
1 Introduction of the digital twin
Presenters ; Frank Luyckx & Wilbert van de Laarschot
Provide an overview of the different perspectives of the digital twin solution architecture (e.g. from Gartner, Siemens, SAP) and discuss the required capabilities of a digital twin solution architecture.
2 The asset management and digital twin capabilities of SAP Leonardo
Presenters; Jan Penninkhof & Mark Roepers (Solution architects from SAP)
The SAP Leonardo cloud platform is the basis for the IoT solutions of SAP. The SAP Leonardo cloud platform is also the basis for next generation of asset management applications (SAP connected asset portfolio). During this presentation SAP will give an overview the SAP perspective on the digital twin and a short demo of the digital twin in combination with a MES platform.
3 The status of the asset management and digital twin roadmap of ASML
Presenter; Mark Giebels (Business architect ASML)
ASML has defined a roadmap to optimize the machine configurations and installed base. This will make the ASML organisation ready to implement a digital twin. The current status, the roadblocks ahead and the lessons learned will be discussed.
4 The status of the asset management and digital twin roadmap of Philips
Presenter; Jan van Zoest (Chief corporate enterprise architect Philips)
Philips has defined a digital twin strategy for Philips healthcare. The impact on the enterprise architecture will be discussed.
5 The status of the asset management and digital twin roadmap of Sitech
Presenter; Maurice Jilderda ( Development manager Sitech)
Sitech is a service organisation providing IoT condition monitoring, predictive maintenance and manufacturing infrastructure services to e.g. chemical plants. Sitech is a technology partner, achieving maximum plant performance and cost-effectiveness.The Sitech enterprise architecture required to provide these services to their customers and to define the digital twin will be explained.
6 Visit to the ASML Experience Center and introduction ASML
Organisation; Mark Giebels
ASML makes machines that make chips – In the Experience Center, ASML welcomes visitors to its high-tech world. The experience Center is designed with an interactive interior with the look and feel of a clean room. A set of dynamic media tools that select, bundle and display inspiring data coming from ASML worldwide on an (f)actual basis. From a huge multi-screen video installation on which visitors can activate a semi-live state of the company to a full-size projection of the EUV machine in Virtual Reality.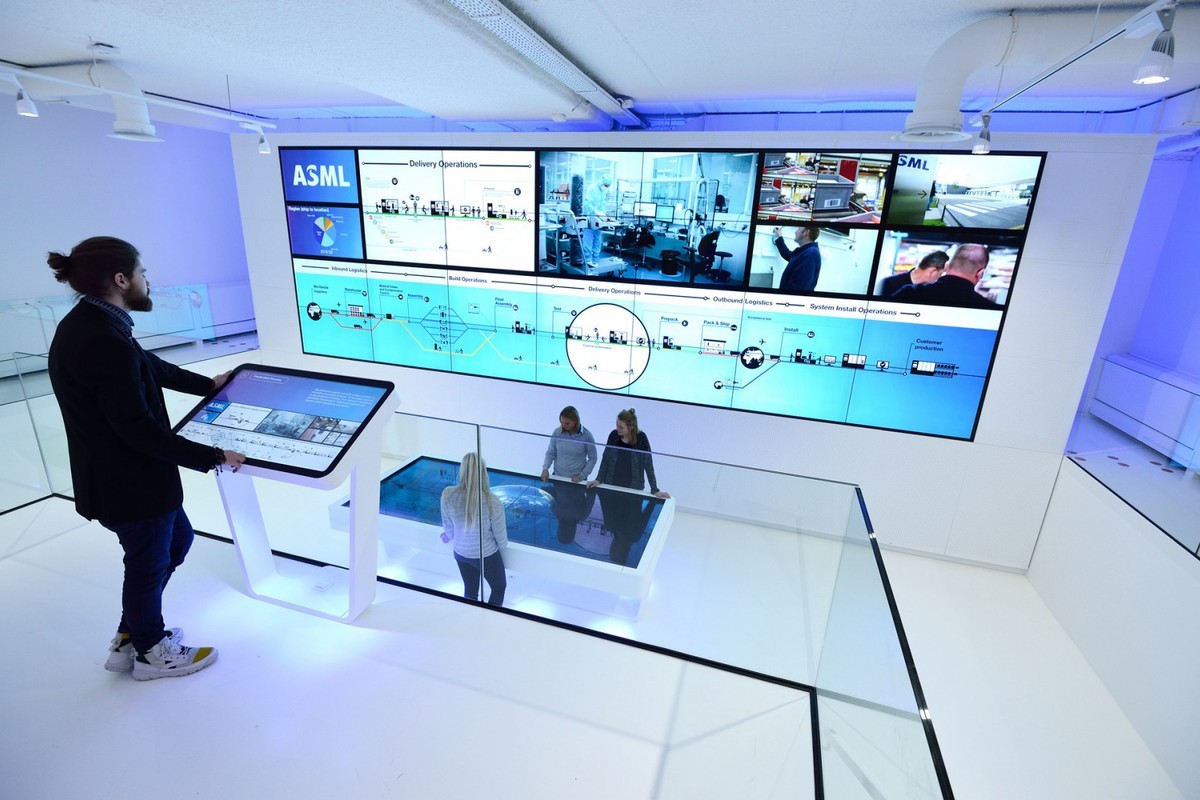 Thank you for reading my post and "like it if you like it". If you would like to read my future posts then please click 'Follow' and feel free to also connect via linked-in or Slide-share. 
You can also go to; Previous Blog => Next Blog