What do business performance management and soccer have in common? In the final keynote during ARIS UserDay, Dr. Helge Hess and Jörg Klückmann showed where both topics fit together. Read on to learn how both domains benefit from real-time analytics.
<!--more-->
ARIS UserDay and ARIS Process World are big events, but it can't be ignored that the European soccer championships are big, too. On a first glance, business performance management and soccer do not seem to have much in common. But both domains benefit from detailed analytics. In case of soccer, analytics are used to measure the performance of individual players or to analyse the strengths and weaknesses of opponents. In a company, such measures are used to control the current state of the business processes and to lead the business by defining key performance indicators.
During their keynote at the end of ARIS UserDay, Dr. Helge Hess and Jörg Klückmann, both IDS Scheer, compared the usage of analytics in both domains in an inspiring talk.
Jörg took the role of a soccer enthusiast using the latest analytic technologies to analyse the soccer performance of the German team. He defined key performance indicators and measured the performance of the individual German players. Based on this analysis he was able to define the perfect German soccer team. It seems he has a good connection to the German coach Jogi Löw, because the current German team looks very similar to what his analysis revealed.
Jörg went on to use movement analysis to show why Germany was able to score against the Austrian team during a test match at the beginning of 2008. He revealed problems in Austria's defence. This tactical information can be used if playing again against Austria - like today. We will see if Jörg's analysis will help the German team today!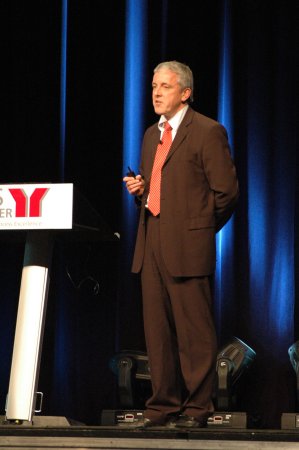 Helge being a business guy felt challenged by the advanced analytics used by Jörg. He showed how he uses various business analytics like dashboards and key performance indicators to steer his company. For example, he uses a company dashboard to measure the implementation of the company strategy. On a tactical level, executed business processes are analysed to reveal bottlenecks and common obstacles. Such analytics can be used to compare the performance of different departments or company locations and to derive possible improvements.
Helge was also able to challenge Jörg, because in contrast to soccer analytics he is able to monitor the business performance in real-time while the processes are running. Jörg instead had to admit that he has to rely on his gut feeling during a game, because he is not able to perform his analytics while the game is running. This real-time monitoring allows Helge to react immediately if a problem in the currently executed business processes arises. This, of course, prevents painful losses like last week against Croatia... 
After this entertaining keynote, IDS Scheer's European Table Soccer Championship was started. There are 32 teams of ARIS UserDay attendees currently fighting for the cup!