The only truly integrated process transformation suite.
ARIS 10 SR18 brought a slew of exciting improvements, and in this blog, I will focus on the integration of business process analysis and process mining.
ARIS Process mining is now available in the ARIS portal. 
You can now embed process mining analysis from ARIS Dashboarding and combine it with other dashboards in ARIS. Another useful feature is the ability to assign a dashboard to a specific process.
Example: Procure to pay process
Maximise success in transforming your business by rolling out process mining insights to a wide range of stakeholders through the ARIS portal - bringing process knowledge to a wider audience of users. You can navigate directly to the process mining app and see the same analyses in a full-fledged mode depending on your user role with all the different capabilities.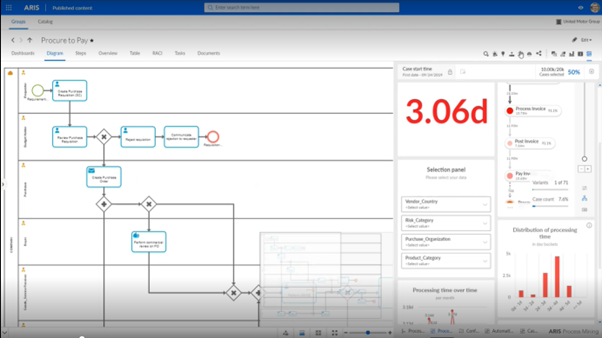 The view after switching to the process mining app is shown below. No additional login is required; everything works out of the box in a single sign-on fashion because it operates as one integrated and combined system for you as a customer.
When it comes to the integration of BPA and Process Mining and the value they provide, the following are the key enhancements in the ARIS 10 SR18 release which allow you to:
Incorporate process mining analysis into the ARIS portal
Utilize integration by combining ARIS BPA and ARIS Process Mining in a single integrated deployment.
The great news is that all ARIS BPA users have their process mining usage rights automatically added - for free!
Continuing with new enhancements, You can now Include process mining analysis next to a diagram. This is great to publish not just documented process knowledge, but have it enriched automatically with process mining insights. 
Finally, embedding process mining into the ARIS Portal is easy as it works the same way it does with other ARIS dashboards.
Take the first steps into the world of Process mining and impress your peers (and your boss 😊) with what you can do with the free tool. Getting started is super easy! 
Get your FREE Forever Trial NOW!