Are you ready for some exciting news? The latest release of ARIS Process Mining SaaS is here and it's packed with new features and capabilities that will take your process mining journey to the next level. In this blog post, I'll highlight the top 7 features in ARIS 10 SR 22 that will enhance your data, visualization, and integration capabilities, giving you more control and a better overall experience.
Gallery: Prebuilt Accelerators to Jump-start Your Process Mining Journey
Starting your process mining journey can be daunting, but with ARIS 10 SR 22, we've made it easier for you to get started. The new Gallery feature helps you find accelerators that have been pre-built by experts, so you can jump-start your process mining journey and get to insights faster. Installing these standardized accelerators into your tenant is easy, and attaching data to them will start generating meaningful insights for you to analyze.
FIne-grained Filters: Get Context-Driven, Understandable Insights
The fine-grained filters in ARIS 10 SR 22 enable you to get more context-driven, valuable insights. With the ability to filter down to the component level, you can focus only on what matters and exclude components from existing filters for benchmarking or comparison. These filters can be defined from analysis to component level, giving you complete control over the insights you want to see.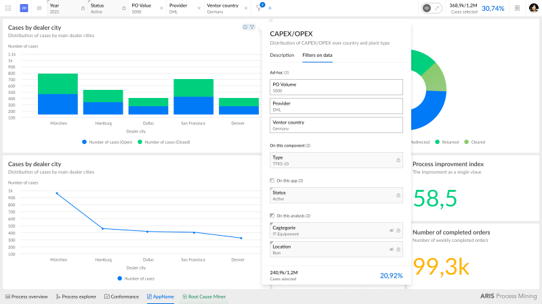 Infinity Scrolling Mode in Tables: No More Data Limits
Have you ever been frustrated by data limits when trying to analyze data in tables? ARIS 10 SR 22 has removed the 10,000-row limit and enabled infinity scrolling mode, so you can examine complete data sets without any restrictions. This new feature allows you to sort based on the full data set, not just the loaded rows, giving you deeper insights into your data.
Advanced Process Model Overlay and Augmentation: Get Deeper Insights
ARIS 10 SR 22 has introduced advanced process model overlay and augmentation, which enables you to combine views and show your most relevant Process Mining KPIs on your process models, including missing activities, connections, and further findings. You can also augment Process Mining-related KPIs, activities, and connections on an assigned BPMN model, giving you deeper insights into your business processes.
Advanced User Rights Management: Control Access for Each User Action
If you want to roll-out your analyses to the right audience, you'll love the new Advanced User Rights Management feature in ARIS 10 SR 22. It allows you to control access for each user action (view/edit/delete) and define who can set permissions. Improved user management and authorization give you more control over your data, ensuring only specific users have access to certain projects and analyses.
Insight-to-Action: Trigger Process Governance Workflows
The new Insight-to-Action feature in ARIS 10 SR 22 enables you to automatically trigger process governance workflows based on Process Mining insights. You can start and assign workflows with your Process Mining data, and triggers can be defined using the built-in WYSIWYG editor. This new feature makes it easier to implement process governance workflows and assign them via Process Mining.
Delta Lake Extraction via Databricks Integration: More Efficient and Flexible Approach
ARIS 10 SR 22 now supports Delta Lake extraction via the JDBC connectivity of Databricks, providing a more efficient and flexible approach than point-to-point integrations between individual business applications. Incremental data load is also supported, which makes it easier to use the versioning information in the Delta Lake.
Want to learn more about other new features? please have a look here: ARIS 10 SR 22 is available−Find all news here 
 You can also Register for the upcoming ARIS 10.0 SR22 Release Webinar on the 25th of April Here