You probably already saw the new ARIS UI and symbols set that was described in last week's blogpost by Nina. Furthermore, any ARIS 9 server installation now includes a Central User and License Management Component (UMC) as well as an ARIS Document Storage (ADS) capability. Now, what does that mean?
In ARIS 9 there is one single space that:
Is easily accessible via a browser-based UI
holds all ARIS license keys in one central place
removes the need to send ARIS license keys to end users
allows for creation and management of users and user groups for all ARIS products
facilitates convenient setup and administration of central settings, e.g. like LDAP connections
includes the configuration, setup and administration of an integrated ARIS Document Storage
License Management
With a change of our license key file structure (one xml file per product) and the delivery of our ARIS 9 license keys as a zipped file containing a number of xml files, you may now import and make available all ARIS product licenses on your server in one simple step.  Just import the entire zip file which contains your entire list of products in one go. 
After import, you will immediately see all ARIS products you have on the left side of the Web UI. On the right hand side you can see license key details and total number of seats available for distribution to your users. Obviously, as soon as you start allocating some of the keys to users, the number of available seats will decrease and be shown in upper right corner.
User Management
Creation and management of ARIS users can now be handled for all ARIS products in one and the same space, thereby also supporting single sign on between different ARIS products.
Either manually create users and user groups or use the intuitive interface to import users from your LDAP system.
Assigning license privileges
An important next step is of course to make the assignment of license privileges that a user or group of users shall have. Simply open the privileges tab and allocate relevante license privileges. An easy to use assignment wizard supports you to set this up quickly.
Now the end user is ready to start his or her ARIS client and get just the right license privileges that have been assigned, without ever having to receive or entering a license key.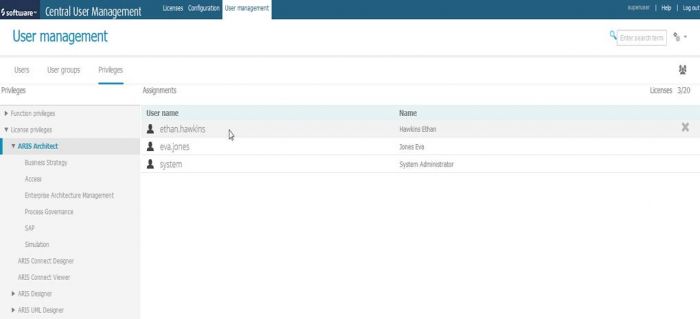 Assigning function privileges
Depending on the installed ARIS components, a number of special permissions called function privileges can be given to different key users. Just to give you some examples of available function privileges:
user management rights
license management rights
server administration rights
script administration rights and many more
The free combination of these makes it perfect to cut just the right functionalities needed for different roles and stakeholders in your organization, no matter if you are working on the business or IT side, or maybe in between.
As a result the new central user and license management component (UMC) offers
a convenient way to set up and manage all licenses and users of your entire ARIS landscape
quick ways to identify who is consuming which ARIS license (and additional function privileges)
a central space for server configuration including ARIS Document Storage
a user management console to track active user sessions
the possibility to change and manage user passwords including email notification (unless connected to an LDAP system)
If you have any questions regarding the new central user and license management, please comment.
Stay tuned for the upcoming posts about the new functionalities in ARIS 9!